Ganesh Himal Trekking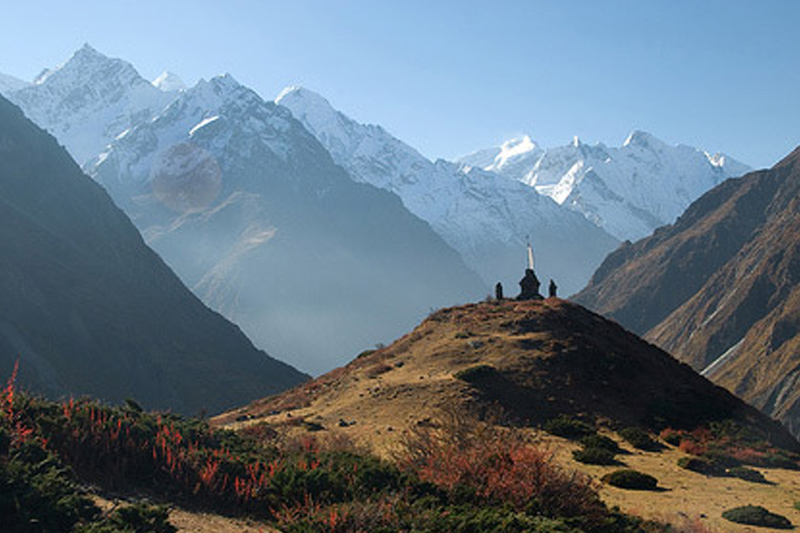 Experience the trekking area which lies on the central eastern region of Nepal still lucky to remain untouched by modern world. You are trekking in different part of world getting in contact with local people, unspoiled nature, widely cultural and traditions barrier, massive mountain close enough to touch. Getting at the height of 4100m pass leaving the clouds under you and greeting the massive mountains over 8000m, would not that be amazing.
The Ganesh Himal is named after the elephant-headed God of Good Fortune. The Ganesh Range Peaks (Ganesh I, Ganesh II, Ganesh III, Ganesh IV) stand out like crystal that is the "Great Himalayan Chain" forming the skyline. This great Himalayan massif is contained between the valley of the Buri Gandaki in the west and Bhote Koshi in the east, which becomes Trishuli River in the lower section.
The first glimpse of Ganesh Himal greets us, when we go crossing over the hills and leave Kathmandu behind. After 5 hours bus ride we arrive at the trek starting point called Sole Bazaar (town) where we spend the first night of our outdoor adventure right nearby the river. Our Guide gives a short lesson of trekking on the first night explaining about the altitude sickness and all the beautiful spots from where you can see an excellent view of mountains.
Observe the different ways of inhabitation, and come in contact with different people following various caste, creed and culture, and thereby pass through the dense forest and meadows, crossing through high highlander pass (4100m), which offers an excellent view of the massif Ganesh Himal (7406m), Langtang (7300m), Annapurna (8091m), fishtail(6990m), manaslu (8163m), Lamjung (6800m) and many more are the day to day activities of the trek. The unusual climatic and geographical mix make this area a naturalist`s dream and a Mecca.
Day 01 Kathmandu to Trishuli to Salangkhu khola (548m) (72 km/ 2-3 hours): Drive by bus/car, trek.
Day 02 Salangkhu khola to Balche village: Trek.
Day 03 Balche village to Gonga: Trek.
Day 04 Gonga to Singla:Trek.Day 05 Rest day at Singla (4600m): Acclimatization.
Day 06 Singla to Pangsang: Trek.
Day 07 Pangsang to Shomdang: Trek.
Day 08 Shomdang to Jogeshworkund Lake: Trek.
Day 09 Rest day at Jogeshworkund Lake: Acclimatization.
Day 10 Jogeshworkund Lake to Linju khola: Trek
Day 11 Linju khola to Sertung village: Trek.
Day 12 Sertung village to Lapa: Trek.
Day 13 Lapa to Mongeythanti: Trek.
Day 14 Mongeythanti to Dunchet village: Trek.
Day 15 Dunchet village to Budigandaki: Trek.
Day 16 Budigandaki to Arughat Bazaar:
Day 17 Arughat Bazaar to Khanchowk Danda: Trek.
Day 18 Gorkha to Kathmandu (141 km/ 5-6 hours): Drive by bus/car to Kathmandu.
Cost Includes
All meals (B/L/D) & accommodation (Lodge/Tented camp) during the trekking period
National park permit
Domestic airfare
Domestic airport tax
English speaking guide
Highly experienced staffs
Staffs food, clothing & salary
Staffs insurance
All necessary grounded transportation
Airport picks up & drops
TIMS (Trekker's Information Management System)
Cost Excludes
Personal nature expenses
Bar bill
Rescue & Evacuation
Gratitude (tip) for staff